When there is not such thing as 'a glass of water please'

When there is no such thing as a dry shirt or dress

When there is no longer such thing as half or one pint

When girls start whooping your arss at downing!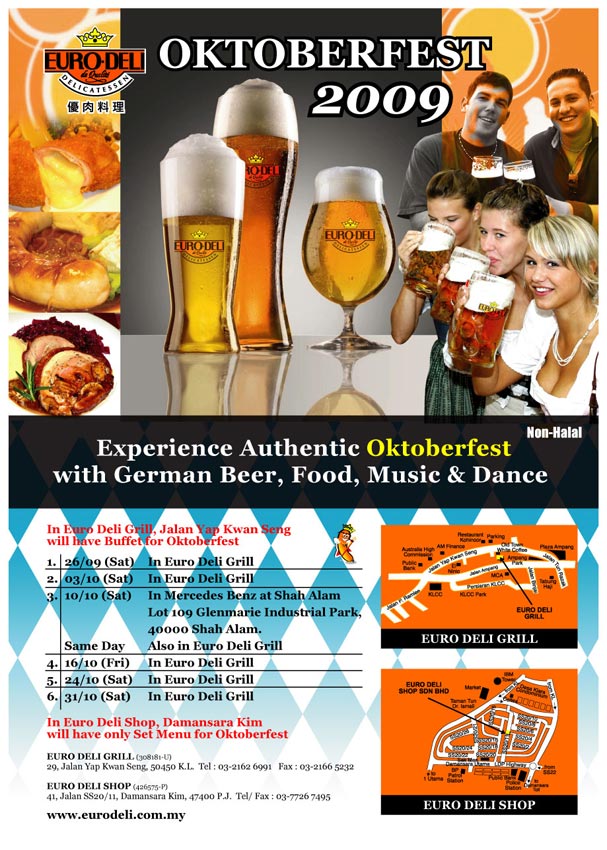 Alright, before heading straight down to Euro Deli for their special Octoberfest Buffet Promotion, you might want to read up a little on what does Oktoberfest really mean to this diverse, spirited and wonderful Bavarian city of Munich. Knowing why you are celebrating this all-around-beer party is not a bad thing. Nobody wants to be a dumb blond right? :)
- drink and drive safe -
Euro Deli Grill
No. 29, Jalan Yap Kwan Seng
50450 Kuala Lumpur
According to Euro Deli Grill head chef Chong King Lee, the Veal Bratwurst cooked in warm milk is a specially prepared traditional German dish, which is only available at the restaurant for the festival. "This is a must have during the occasion and we have it every time to celebrate the festival.
"The veal sausages with herbs is first seasoned with salt and pepper then boiled until it is fully cooked before it is transferred into the warm milk," said Chong, adding that a traditional way of serving the dish was with Sweet German Mustard.
Other dishes served along with a complimentary glass of beer includes Sausage with Sauerkraut (Cabbage fermented with edible Lactic Acid Bacteria), Stir Fried Red Cabbage, Boiled Eisbein (Pork Knuckle), Roast Eisbein (Pork Knuckle), Braised Beef in Red Wine and Vinegar, Kassler Ham, Spatzle (a type of German Noodles) with Bacon, Fish Fillet in Bernaise Sauce and Chicken Escalope.
Just like any other buffet, it is not complete without dessert and the restaurant offers home-made specialities like the Apple Strudel and Black Forest Cake as well as specially imported German Chocolate Mousse and a selection of fruits.
During the dinner, patrons are also invited to participate in various games organised by the outlet such as beer drinking, sausage eating, dancing and arm wrestling.
The buffet dinner is only available on Saturdays and is priced at RM 65 ++ (Adults) and RM 32.50 ++ (Children). It will not be available on Oct 27.